Our primary wish is to introduce you to the uniqueness of Ouzo Lesvion, as seen through our eyes, and to take you on a journey of memories and flavors.
Through this unique journey, we want to connect the values of yesterday with the experience of today. Ouzo Lesvion is its people, the memories that spring to mind with every sip you take and the smell of anise that can take you to seas you have yet to travel.
Come and meet us!
Sincerely,
Ioannis Konstantinos Linos
IOANNIS LINOS AND CO. combines tradition and experience with technology in the new, privately owned facilities of 4500 sqm, which are equipped with state-of-the-art machinery.
In the production and bottling area of Ouzo Lesvion, everything testifies to the diligence with which the company took care of every single detail.
Όλο το κτήριο είναι κατασκευασμένο με τις ανώτατες προδιαγραφές για να είναι σε θέση να στηρίξει τις απαιτήσεις της επιχείρησης για ολοένα και καλύτερο περιβάλλον απόσταξης και παρασκευής του ούζου Lesvion.
Finally, at IOANNIS LINOS AND CO. social responsibility is our top priority, so we take care of the sterilization of the bottles by washing them before each bottling in a specialized bottle washing machine.
The beginning
On this day Ioannis Linos was born in Moschonisia of Asia Minor and this is where the story of the distillery begins.
The first meeting
At the age of just 13, Ioannis Linos started working for a friend of his father's who was involved in the production of liquor, ouzo in particular. This is how it all started, as he was fascinated by the magic of distillation and decided that this would accompany him throughout his life.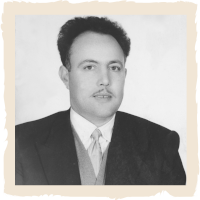 Acquiring the knowledge
He worked in various distilleries of Lesvos, familiarizing himself with the seeds and their peculiarities, as well as herbs and quality raw materials which are used to produce an excellent distillate with a unique taste and unique aroma.
The dream
Around that time, Ioannis Linos establishes his own distillery in collaboration with Orestis Papastavrou.
The family tradition
Now, the time came for his son, Konstantinos J. Linos, to take over. He continued the tradition of distillation, with the same love and devotion that his father once had, adding his own vision for the creation of an even more refined distillate.
The distillery
Today, the son of Konstantinos Linos, Ioannis K. Linos has set up his own business "Ouzo Lesvion", knowing that he carries the weight of the heritage on his shoulders and the responsibility to keep everything that he has been taught by his grandfather and father in order to maintain the high quality which has been acknowledged by the whole of Lesvos.
Ouzo Lesvion
Get to know Ouzo Lesvion better through all its production stages
1. Raw Materials
Ο γλυκάνισος, το οινόπνευμα, τα μπαχαρικά & τα βότανα μαζί με το νερό είναι εκείνα που επιλέγονται να είναι πρώτης ποιότητας για να αποτελέσουν και τη βάση της πετυχημένης συνταγής του ούζου Lesvion.
2. MATURATION
In order to produce the ouzo of highest quality that will cater for the taste of the most discerning customers, the distillate should "rest" for two months, so as to bring out its aroma and give it its full taste.
3. DISTILLATION
The whole process of distillation is done in a traditional copper cauldron (ambika), where through continuous controls and tests, Ouzo Lesvion is masterfully prepared.
4. Labeling
Finally, observing all the rules of hygiene, the ouzo with 100% distillation, is filtered in a special type of stainless steel filter and is standardized in a high-capacity automatic labeling stamping machine, ready to begin its journey on the market.
Ouzo Lesvion. Made with passion, aromatic, and light, it is the absolute "must" for our summer excursions in taverns of the island accompanied by seafood delicacies.
Ouzo Lesvion has brought back beautiful memories from the ouzo we once enjoyed and made us love it even more!
Very refreshing ouzo that sets our mood every time we choose it, made us love ouzo even if we did not drink it before.
Giannis Linos with great experience in distillation that is passed down from generation to generation makes us love "his" Ouzo Lesvion that has now become "ours"! With his knowledge and passion, he inspires you and you do not want to go anywhere else! The wonderful taste and the sought-after packaging make Ouzo Lesvion unique both to enjoy by the sea and to give to your friends. Giannis, thank you for turning the tradition into... enjoyment!
It is not quite possible to pass by a place without tasting the local traditional products. If you are looking for a special gift for friends, Ouzo Lesvion from Ioannis Linos's distillery is a great choice. Their new distillery in Kara Tepe is a jewel and passing outside the smell of spirits challenges you to go inside to taste and buy it. The people are hospitable, with knowledge from the old days in the art of Ouzo and a traditional recipe that has not changed over time.
Ouzo Lesvion
If you are interested in learning more about our company and products, do not hesitate to contact or visit us!
2 km EO, Mytilene - Thermi, Mytilene 81100
22510 27100
monday
09:00-17:00
tuesday
09:00-17:00
wednesday
09:00-17:00
thursday
09:00-17:00
friday
09:00-17:00
saturday
09:00-14:00
sunday
Closed*